Green Walls
Green design has evolved beyond the rhetorical to the point where every building surface is asked to perform - either actively generating
on-site
energy with PV panels and wind turbines, or passively reducing a building's energy demand with green roofs. A new twist on this last idea - the green wall - is perfectly suited to urban environments, simply because cities have so many underutilized surfaces. A number of projects and competitions by the studio have been part of the discussion to bring this technology to the mainstream.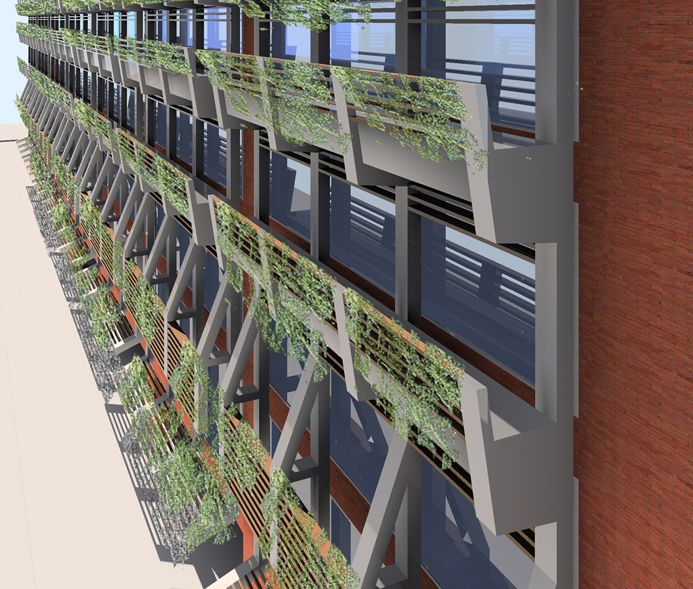 Battery Park City Parks Headquarters
Planning for a new headquarters for Battery Park City Parks included studies of creating a working vertical landscape for the building's facade. The benefits of green wall technology were explored with Buro Happold to achieve a synergy of interior and exterior conditioning systems. Maintenance of the wall was designed as an intrinsic part of building systems, an approach which reflects the Conservancy's mission for Parks in New York City.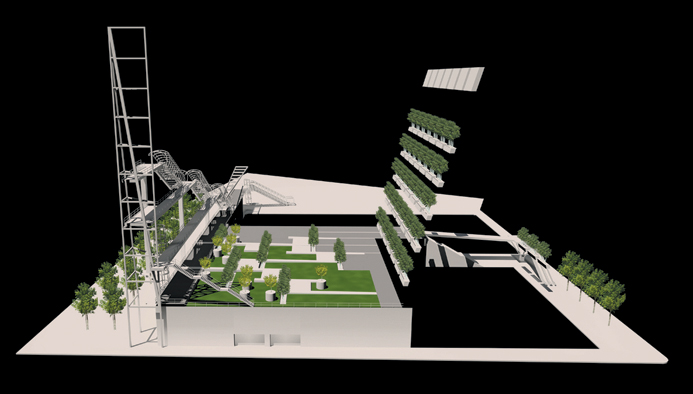 55 Water Street
WXY was chosen as one of six finalists to compete for a chance to create an original design for 55 Water Street Plaza, an elevated acre on Downtown Manhattan's waterfront. The design was conceived as a great outdoor room on the East River, composed of a skyscraper and a canted forest. It was to have been framed by a performance viewing armature, assembled out of inclined elevators and escalators - a celebration of the technological elements that made New York a Vertical City. The design capitalizes on the site's southeast orientation to locate vegetation where it will thrive, which has the added appeal of increased visibility to and from Brooklyn along the waterfront.
Pier 76
This concept design for Pier 76 uses horizontal and vertical green surfaces to create a pleasantly deceptive appearance for a proposed recycling facility. A spacious rooftop park and waterfront "porch" overlooking the Hudson River actually doubles as a recycling barge equipped to accept, process, and transfer most of Manhattan's recyclables. The plan calls for a raised section of the Hudson River Park on the east side of Pier 76, allowing pedestrians and bicyclists to rise above grade, while sanitation trucks and all other vehicles (including the buses out of the Ferry Terminal at the pier) will cross below at grade. By elegantly weaving green surfaces throughout, the bulk of the scheme is disguised, the complex's carbon footprint is reduced, and community concerns are addressed. The park will serve as a destination on the Hudson River for the High Line and Hudson Yards, connecting Midtown to the West Side Ferry Terminal.